Mô tả
Đây là dòng bia phục vụ các vị khách khó tính nhất về độ đắng và hương thơm
hoa houblon, được sử dụng đến 7 loại humulus lupulus độ đắng khác nhau, lên
men 2 lần, có sự hài hoà, giao thoa vô cùng đặc sắc của alpha acid, malt, ester
hoa quả do chủng houblon đặc thù hoà tan trong quá trình đun sôi và lên men.
Bia không trong và mầu đậm.
ALC. 7.5%, BU: 70-80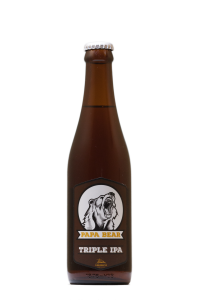 Câu chuyện về tên: Bản vẽ tay về miệng chú gấu đang mở to hết cỡ gào lên, mô
tả sự cá tính cực cao trong vị đắng và thơm của dòng bia này
Triple IPA   Brewed with 7 different types of hops and triple fermented to harmonize the
floral, fruity, and bitter.
ALC. 7.5%, BU: 70-80